JOHN T. CHILDRESS
is the CEO and President of Childress Business Consulting. John is an experienced business leader who has excelled at both starting businesses and working within existing businesses to help them grow. He holds a Bachelor of Science in Finance from Rutgers University School of Business. John is certified as a trainer/facilitator in the Predictive Index, Balanced Scorecard, and FastTrac tools and programs.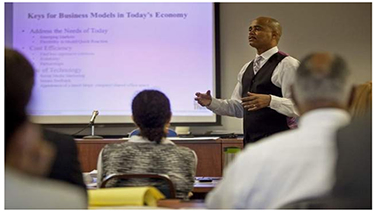 John began his career at age 20 by joining the Dominos Pizza management training program. After being promoted to General Manager, he built up his store sales to rank among the highest in per capita sales. As a result of this achievement, he soon built and owned his own store and in the process became one of the first African American Franchisees in the 4,000 store chain. His store consistently ranked at the top of sales in his region in Long Island.

In late 2005 John was selected to serve as Executive Director of the African American Chamber of Commerce in Philadelphia. He helped increase membership by creating a new strategic vision for the Chamber. But he is most proud of starting an entrepreneur training program there to assist people starting their own business. John also is an elected member of the East Greenwich School Board and serves on many city and regional committees.

In 2002, John established his own business management consulting firm, Childress Business Consulting (www.ChildressBiz.com), which has helped many small businesses and non-profits increase their revenue and manage their business. Over the years CBC has connected small businesses with over $3 million in new revenue and contracts.

In 2009, John was chosen by New York City Business Solutions to facilitate entrepreneurship to business executives. This program is conducted at the State University of New York (SUNY) Global Center. John has helped trained over 400 entrepreneurs to date. Recently, John was also chosen by Entrepreneur Works of Philadelphia to run a similar program in Philadelphia.
CHARLES R. CHILDRESS is an experienced Business Development and Sales Professional with over 30 years of outstanding achievements. He has built up million dollar + businesses in Los Angeles, Washington, DC, Atlanta, and New York. He has excellent analytical skills and is a tenacious business builder. Charles can develop a comprehensive and effective sales process for your business. This process captures the company's benefits to the customer and teaches the company how to translate that into sales! He builds the sales capacity of the company to help grow revenue.

DEIRDRE M. CHILDRESS-HOPKINS is the Strategic Communications Manager for the Pennsylvania Convention Center. She is a former features, city desk, sports and suburban editor at The Philadelphia Inquirer, where she supervised and edited award-winning reporters and freelancers. She is the immediate past Vice President-Print of the National Association of Black Journalists and its former National Secretary. In recent years, she has traveled throughout the U.S. and also Toronto, Canada, Kingston, Jamaica, and Dakar, Senegal, organizing and attending meetings, conferences, and conventions.

Born in Los Angeles, Deirdre previously worked at The Washington Post, The Los Angeles Daily News,
United Press International and the Syracuse Post-Standard. She earned a bachelor's degree in English and
Fine Arts from Colgate University, where she received a Presidents Award as an outstanding graduate. She
attended private and parochial schools in Burlington County, N.J.. During her career, Deirdre also has studied at
The Poynter Institute, the University of California at Los Angeles and London University.

She has edited an e-Journal, published quarterly online and currently has a blog, Seeing the World in 3Dei!, where
she combines her love of travel, film and other general interests. Deirdre has moderated sessions of BlogTalkRadio; she has made appearances on Philadelphia radio and television stations, FOX and NBC, and she was a regular contributor to NPRs News and Notes.


TIMOTHY CHILDRESS has a background in business, law, and sales management, with a proven track record in negotiation. He brings a history of building professional relationships with internal and external partners. He leads all contract development and management for CBC.

Previously Tim served as a Contract, Strategy, and Negotiations Attorney at American Express. In this role, he
was responsible for negotiating multimillionaire dollar contracts directly with prospective clients and their counsel.
This role required exceptional technical skills drafting and structuring both global and domestic commercial credit agreements, global licenses, service agreements, consulting agreements, privacy, non-disclosure agreements. His experience has afforded Timothy great comfort negotiating and communicating with both opposing counsel and their business counterparts which has been essential to his success in these high pressure roles. . While in the employ of American Express Timothy received several performance awards for his commitment to excellence, ability to identify pressure points, and propensity to quickly resolve disputes.
ADA C. URIBE, MBA, PMP is a Principal Consultant, and an accomplished leader with more than 13 years' experience in Project Management, Business Analysis and Process Improvement in both government and corporate sectors. Ms. Uribe possesses a keen ability to envision global project perspectives while executing business details within critical deadlines. Highly skilled at managing multi-faceted projects through competing cross-functional teams with the ability to communicate clear mission and key objectives.
BRANDON R. GOULD is the Information Technology Director, Brandon serves as IT Director for CBC. He is an alum of the University of Delaware where he received his B.A. in English with a concentration in Technical Writing and a minor in Legal Studies. He has 10 years of experience working as an IT Professional at the Wharton School of Business. Brandon's tenure at the Wharton School of Business was an education in how to balance the drive to implement and administer innovative technologies against the wishes of the Faculty and Staff who had to use them. Brandon's Leadership experience is complimented by his attendance of The Essentials of Management, University of Pennsylvania Core Management Program and "Creating and Leading High Performance Teams" at the Aresty Institute of Executive Education, University of Pennsylvania at The Wharton School.